Fumigations
Payne Pest Management is a Veteran owned, Small Business Certified approved service provider for the United States Government. We service many military properties including North Island, Miramar Air Base, Camp Pendleton, Seal Beach and others.
Watch a brief video about our Termite Treatment services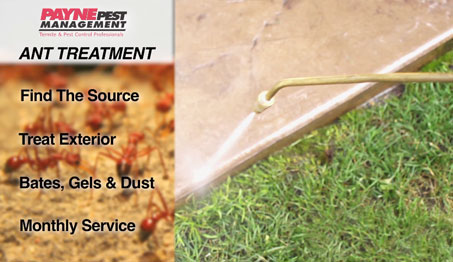 Integrated Pest Management includes customer communication regarding conditions conducive to proper pest control such as sanitation, landscape or building maintenance will be emphasized to facilitate this program and help prevent future infestations.
Payne Pest Management will conduct routine surveys of property on a consistent basis for possible pest infestations. Copies of these surveys will be taken by the, Regional Service Manager, and given to the appropriate military personnel for their records.
Payne Pest Management understands your unique requirements, including the goal of reduced pesticide usage, a dedication to IPM (Integrated Pest Management) and a solid quality control plan to back up services.
Payne Pest Management offers environmental solutions for:
General Pests & Rodents
Bed Bugs
Termites
Bees and Birds
Dry-rot and fungus wood repair