PEST CONTROL:
Household pests are more than an embarrassing nuisance. They can bring harmful bacteria into your home. Your best defense is a customized Pest Control Plan from Payne Pest Management.
Our certified professionals know which pests thrive in your neighborhood, and how to help keep them out of your home and away from your family.
Watch a brief video about our Termite Treatment services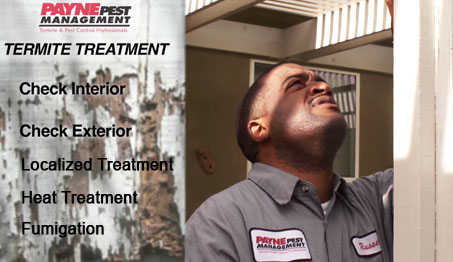 Evaluation
Protection starts with a free inspection of your home. Based on our findings we will customize a monthly, bi-monthly or quarterly Pest Control Plan.
Service
Your Payne Pest Management professional knows what works best against different pests, so they'll choose from our advanced solutions, including baits and dusts. Here are the areas we typically focus on during your initial service:
Inside your home
Kitchen, bathrooms, water heater closets, exterior doors and thresholds, fireplace, plumbing penetrations, around windows, built-in cabinets, bath trap access, and garage.
Perimeter Service
Baiting of active pest harborages, crack and crevice treatment, and removing spider webs.
Outlying Areas
Trash storage areas, mulched landscape beds, pool pump and filter areas, storage buildings, etc.
We will recommend ways you can help eliminate pest infestations such as:
An open garbage can stored under the sink can be a magnet for flies, rodents, roaches and ants.
Mice, roaches and other pests can enter a home through tiny gaps between plumbing pipes and walls. Mice can enter through holes the diameter of a dime and rats can enter through holes the diameter of a quarter.
Food that is not sealed tightly can attract "pantry pests" such as Indian meal moths, weevils, roaches and rodents.
Improperly sealed attics or crawl spaces can become access points for spiders, rodents and other pests.
A leaking roof or a blocked gutter can accumulate moisture, a breeding ground for mosquitoes.
Mosquitoes, flies and other pests enter through small openings around windows and doorframes.
Some pests can reach your home via tree branches hanging over your roof, rain gutters, high grass or yard debris.
Piles of firewood stacked near your home can lead to pests such as termites, spiders or carpenter ants.
Protection
We'll return every one, two or three months to provide additional exterior treatments, which means you don't need to be home while we work. If you have a pest problem inside, we will take care of that too as part of your Pest Control Service. Even if you get a pest problem between services, we'll come back and deal with it at no extra cost. Payne Pest Management also will treat your home for bed bugs. To learn more about Payne Pest Management's special offers on our bed bug service, contact us today!
Termite Control
There is no better defense against termites than a customized home protection plan from Payne Pest Management. After a comprehensive inspection of your home, we will recommend a customized treatment method designed to help protect what is probably your biggest investment. Payne Pest Management bases treatment techniques on your home's specific construction type because we understand that every home is unique, and not all customers' needs are the same.
Payne Pest Management delivers the world's best value in termite control. You'll receive written specifications, customized diagrams and an inspection report after your consultation. And, if termites happen to return following your treatment while under our lifetime renewable warranty period, we promise to re-treat the problem at no additional charge.
Fumigations
Do you worry that your home might have a severe termite infestation? Payne Pest Management can make the process as quick and painless as possible. The most efficient and cost-effective option for homeowners faced with termites is structural fumigation, or "tenting."
The first step is to, take advantage of our *free termite inspection
Second, if fumigation is the right option for you, we'll manage the process as seamlessly and effortlessly as possible. We'll provide you with instructions to prepare your home and answer any and all questions on the fumigation process itself. Then, our fumigator will completely seal, or "tent," your home. The fumigation process will allow us to treat your home with the most effective fumigant available, Vikane**. After that, your property will be aerated fully before you return. Other than removing people, pets, live plant and double bagging your edible items, there's not much else you have to do. The fumigant we use leaves no residual in your home or on its contents. That means there is NO need to wash your dishes, clean your clothes, or wipe down your counters. Once your home is certified for re-entry, you can pick your life up right where you left off.
*Excludes real estate transactions, which may be subject to a fee
** Vikane is a registered trademark of Dow AgroSciences
The Payne Pest Management Guarantee: We're committed to keeping pests in their place. If they return between treatments, we'll re-treat and, depending on your agreement, remove and replace the damage at no additional charge. Don't Be Eaten Out Of House And Home. Left untreated, termites can literally eat up the equity in your home. According to the National Pest Management Association, termites cost Americans more than $5 billion in damages each year. That's more than fire and flooding combined. And their destruction knows no bounds because any home, regardless of its construction type, can offer the ideal combination of warmth, moisture, and food for a termite attack. Additionally, many homeowners' insurance plans won't cover any of the damage. Not having protection can lead to problems when selling a home, since many lending institutions require a termite clearance before lending money to home buyers.
What We Do
With the most advanced equipment in the industry, Payne Pest Management Termite Technicians are the best qualified to help protect homes and businesses against termites. Because effective treatment requires specialized tools such as hammer drills, sub slab injectors, rodding devices, and other equipment, only highly trained specialists should be trusted. Payne Pest Management's protocol consists of three important steps.
Step One: Thorough Inspection
On our initial visit, at a time that's convenient for you, a licensed Payne Pest Management professional will visit your home and conduct a complete termite inspection, which takes about an hour.
Step Two: Customized Protection Plan
Your Payne Pest Management professional will explain the findings of the inspection and show you where the treatment will be applied, because every home and business have a unique set of termite control needs. All our work is covered by the strongest guarantee in the business. Here's how:
Step Three: Ongoing Protection
We will perform a complete termite inspection of your structure annually or as requested. If live termites are found, we will provide additional treatment at no additional charge. In some cases we will remove and replace new termite damaged wood members at no additional cost, as well. We repair damage done by termites, dry-rot fungus and beetles, too.
The terms and conditions for the guarantee are available upon request